#LPSelma will be operating on a two-hour delay for Friday, January 27th, 2023.

#LPSelma will be delayed by 2-hours on January 26, 2023. Please be careful driving.

LIBERTY-PERRY SCHOOL: #LPSelma will be closed on Wednesday, January 25, 2023. Teachers will have E-Learning assignments in Canvas by 10:00. Be safe!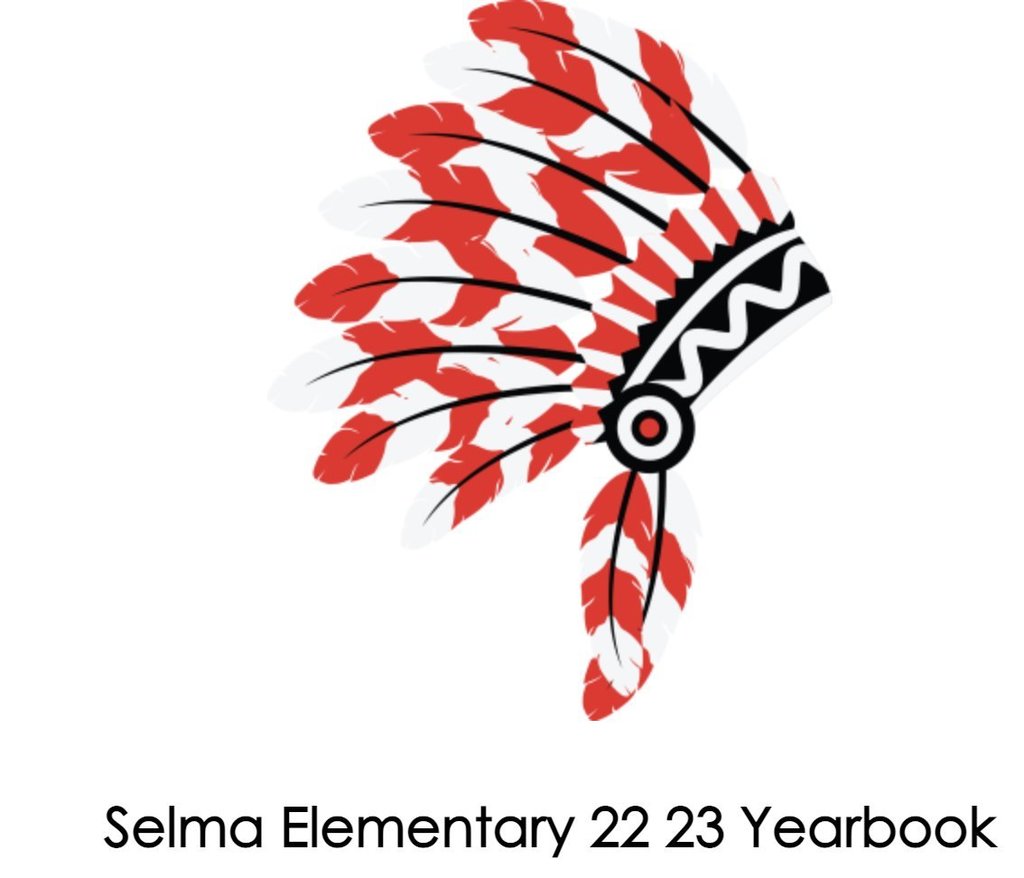 Liberty-Perry Community Schools and Wapahani High School are deeply saddened to be informed of the tragic loss of a beloved student, Laycie Chambers. Laycie was a joyful student and loved by many in the community and especially the school band. We know our students will need support in the days ahead. The grief a young person experiences is personal and affects them in different ways. We encourage our students to speak with parents, counselors, and school staff members as we process this loss together. Wapahani High School and all Liberty-Perry Schools will be supporting the students and staff by providing extra counselors during the school day for the foreseeable future. Our thoughts and prayers are with the families affected by this severe loss. Bryan Rausch Superintendent

#LPSelma - Bring $1, wear a hat and blue and support a local family.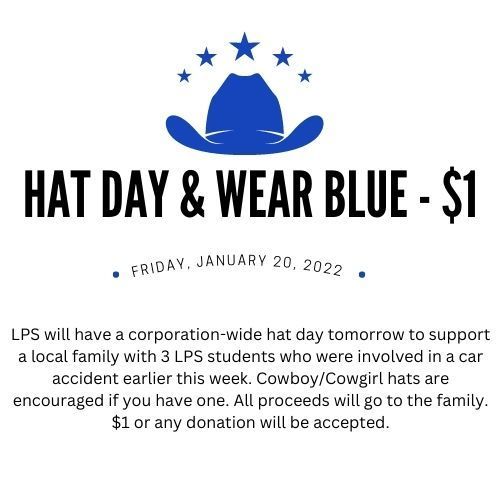 Reminder that tonight's 7/8 girls' basketball game vs. Yorktown will be played at Selma Elementary with the 8th grade girls game played first at 5:30 followed by the 7th grade girls game. There is a home wrestling match at Selma Middle School starting at 5:30 tonight.

The 6th grade boys basketball team practice for today is cancelled. The 6th grade boys BB team will NOT be practicing tonight. The 7th & 8th grade boys basketball teams are not practicing tonight either.

Congratulations to our girls and boys varsity basketball teams on being the County Champions!

UPDATE: Tonight's 6th grade boys basketball game vs. Randolph Southern has been cancelled due to a scheduling error with RS. The 6th grade boys will practice at Selma Elementary tonight 5:30-7:00. We are working on a new date to make up the game.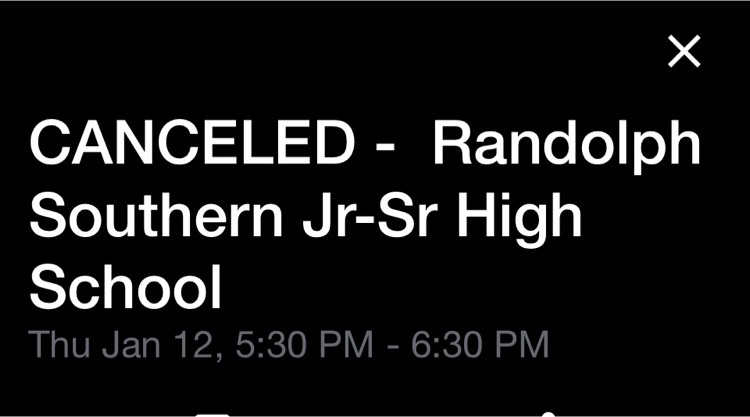 #LPSelma will be on a Two Hour Delay - Thursday, January 12, 2023 Be safe.

Check out the Spring Fling that will be held by Selma Elementary for girls in grades K-5! Be sure to turn in your form by February 3rd!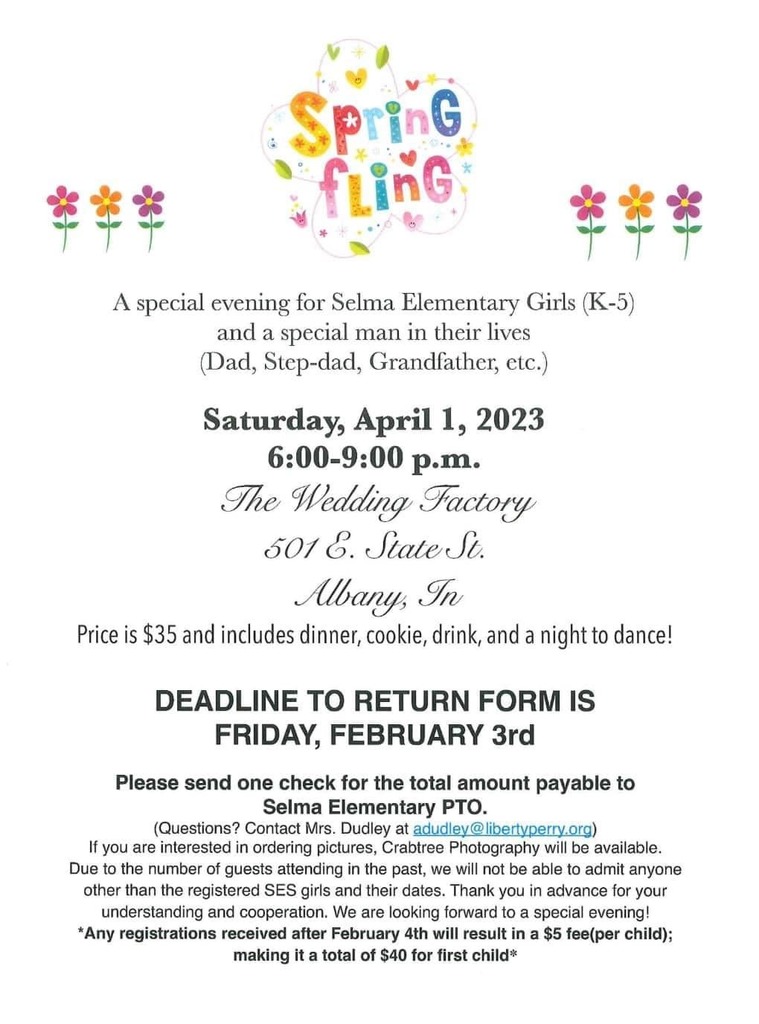 We are looking forward to the 2023 school year! Teachers return on Tuesday, January 3 and students return on Wednesday, January 4. #LPSelma

Tuesday night's 7th & 8th grade girls basketball game vs. Randolph Southern will be played at Selma Elementary with the 8th grade girls playing first, starting at 5:30. Once again the 8th grade girls game will be played first on Tuesday and the girls' teams both will be playing at Selma Elementary instead of SMS.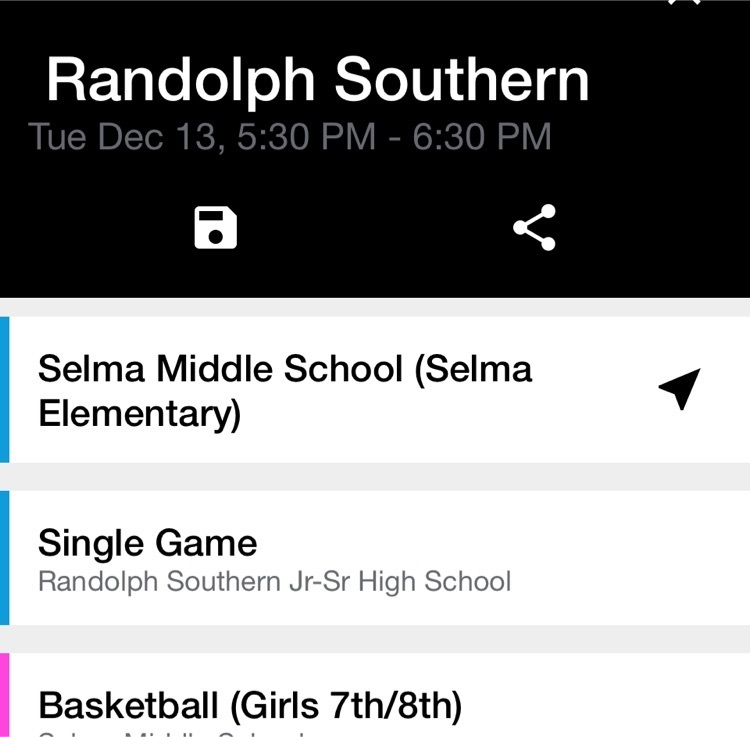 Tonight's 6th grade basketball game at Wes-Del has been canceled for tonight due to a scheduling snafu on Wes-Del's part. The 6th grade team will be practicing at SES tonight 5:30-7:00. We are sorry for any inconvenience this may cause.

#LPSelma is on a Two Hour Delay Wednesday, December 7, 2022

#LPSelma will operate on a 2-hour delay today, Tuesday, December 6, 2022.

Reminder that today is winter sports picture day. Crabtree Photography will be at SMS this afternoon taking winter sports pictures. Extra order forms are available in the office.

**Crabtree Photography will be taking athletic team/individual photos on December 1st during the afternoon at school. We will start taking pictures at 1:45 and continue during 7th period. BEFORE PHOTO DAY Place your order securely online by following the steps below. Visit
http://crabtree-photography.hhimagehost.com/2022SelmaMSWinterSports
Choose your package, and/or add-on items, add to your cart. Click on your cart, and complete the check-out process. During check-out, enter your player's first, last name and team name. This is how we will match the photo to your order. You will receive an email confirmation within 24 hours of placing your order. If you do not, please call the Crabtree Photography office (765) 747-6971 to check the status of your order. There's no need to bring any paperwork with you on photo day! When you receive the email confirmation, we have received your order! ON PHOTO DAY Arrive at your scheduled photo time Make sure you have everything you need for photo day! Team jersey, gameday shorts/shoes/socks, etc. If you wish to pay with cash or check, please fill out the order form completely before you arrive, and enclose exact payment inside the envelope. (We would prefer the above online payment option, if you are able) Extra Order Forms available in the SMS office. No wrestling or 6th grade girls BB pictures this Thursday.

#LPSelma is proud to honor Selma Elementary Principal Lesley Moulton as the District VI Elementary Principal of the Year! We are also proud of Heath Dudley who was named District VI Middle School Principal of the Year! Congratulations!