PRINCIPAL'S PAGE - MR. LUNSFORD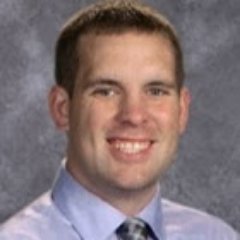 I would like to welcome students and parents to the 2021-2022 school year at Selma Middle School. This is my first year as building principal at SMS. Previously, I was the assistant principal at Selma Elementary School for three years, and prior to that, I was a dean of students at Tri Elementary School for one year. I spent six years teaching math and coaching at Cowan Community Schools. This is my 11th year in education, and I could not be more excited to lead and work in such a supportive and inviting school community as Liberty-Perry School Corporation.
Students at Selma Middle School are provided the opportunity to learn and grow in multiple facets during their middle school years. Academically, our teachers do an excellent job of creating engaging and innovative lessons that captivate student interests. We also offer numerous courses that relate to future career paths that students may take. Our athletic teams are very competitive and successful and students have various extracurricular opportunities that they can participate in. There is truly something for every student at Selma Middle School.
Students arrive in our building, as 6th grade students, uncertain about the new challenges of changing classes and going to their locker and walk out of the building, after 8th grade, as young adults who academically, emotionally, and socially are ready for high school. We all play a role in a child's education, but the role of parents will always be the most important role of all. Please partner with us in making these three years some of the most memorable of your child's educational experience. With your support, my staff and I have the utmost confidence that your student can and will be successful.
If you ever have a question, please do not hesitate to reach out to me. It's going to be a great school year at SMS!

Mr. Todd Lunsford, Principal, Selma Middle School
Email: tlunsford@libertyperry.org
Phone: 765-288-7242
Fax: 765-281-3724