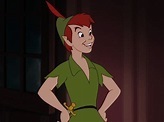 Peter Pan Flies in to Wapahani
Mr. Ken Robinson
Monday, November 05, 2018
What kid, or adult for that matter, hasn't said "I don't wan to grow up! I don't want to be an adult!" We all have at some time or another, so we clearly understand one of the underlying themes of Peter Pan, the Wapahani High School Music, Art, and Drama Departments' 2018 fall musical. Peter Pan, of course, is the story of the boy who never grows up. As he says to Wendy Darling, "I want always to be a little boy and to have fun…." And fun will be had as Peter Pan flies in to Wapahani on Thursday, November 15; Friday, November 16; and Saturday, November 17 at 7:00PM in the WHS Auditorium.
Co-directed by Mr. Kevin Van Note, Selma Middle School and Wapahani High School music teacher, and Mr. Ken Robinson, Wapahani English teacher and Drama Club sponsor, Peter Pan, like The Sound of Music last year, features students from all three district buildings. Sophomore Macy Anderson stars as Peter Pan, senior Emma Kantz portrays Wendy Darling, freshman Kevin Robinson appears as John Darling, and sixth grader Sage Murrell is Michael Darling. Making his stage debut as Captain Hook is freshman Kevon Batchler. Junior Hallie Bowden plays Tiger Lilly, and freshman Sofia Murrell plays Slightly, a Lost Boy. Junior Olivia McCauley does double duty as Mrs. Darling and an Indian warrior, as does freshman Nolan Cherry as Mr. Darling and pirate Starkey. Seventh grader Jarryn Orme appears as Smee, the leader of Hook's pirates. From Selma Elementary, playing Lost Boys, pirates, or Indians are fifth graders Asa Leisure, Braylin Patterson, and Kaydin Priddy, and second grader Audrey Bragg. Plus the show features several other students from various grades throughout the corporation.
Mr. Van Note and Mr. Robinson were drawn to the familiar storyline. "Who can't relate to not wanting to grow up, especially in today's hectic world?" asks Robinson. Van Note adds, "It's great entertainment for the whole family." Children will be thrilled by the adventures of Peter Pan with the Lost Boys, the Indians, and the pirates.
Based on the J.M. Barrie musical Peter Pan, the Boy Who Wouldn't Grow Up written in 1905, Peter Pan features such familiar songs as "I Gotta Crow," "I Won't Grow Up," and "I'm Flying." The music is another main reason Mr. Van Note and Mr. Robinson chose the show. Second grader Audrey Bragg concurs, "I really like the music." However,
Mr. Van Note does admit that the music has presented some challenges. For example, the pirates perform "Hook's Tango," "Hook's Tarantella," and "Hook's Waltz," music that many of the young performers were not familiar with before this show.
However, the music has not been the only challenge. From the beginning, Mr. Van Note and Mr. Robinson have been extremely concerned about how to have Peter Pan and the Darling children fly. Mr. Robinson explains, "We knew we didn't have the fly space or the means to actually fly our actors. Even if we had the space, a professional flying company runs about $5,000!" So Mr. Robinson and Mr. Van Note began researching alternatives to actual flying. "We think we have come up with a unique but visually impressive solution. Although we would have liked to fly the actors, we think the audience will enjoy what we've done," remarks Mr. Van Note.
Despite the challenges, the cast has definitely enjoyed putting the show together. Jarryn Orme says, "It's an adventure I'll never forget." Agreeing, Sofia Murrell remarks, "It is so fun!" The story is so full of life." Sage Murrell sums it up best, "The show has a magical vibe to it." Senior Emma Kantz points out, "Every character is big in some way."
However, some of the cast members also echo the challenges that the directors have noted. Kevon Batchler, Captain Hook, admits that the show "needed improvement earlier in the process, but it came together." Sophomore Syndal Hittson, Curly, points out, "I like the story, but it gets tiring." Mr. Robinson agrees saying, "Anyone who has ever been on stage knows that is true. We rehearse two hours or more a day, five days a week right after school until 5:00-5:15PM. We even did a Saturday rehearsal from noon to 4:00PM. During production week, we will rehearse until 6:00PM or later." "But the hard work pays off in the end, and we are very proud f the cast. They certainly have been up to the challenge of Peter Pan," Mr. Van Note proudly adds.
Mr. Robinson and Mr. Van Note both point out that they could not do this show without a lot of help form many other people. Wapahani graduates Molly and Priscilla Ervin have put together some amazing choreography, SMS guidance counselor Mrs. Raeann Bragg has putting together rehearsal schedules, and has helped out where needed, and Wapahani art teacher Mr. Kyle Rees and some of his art students have been painting some gorgeous sets. Several parents have pitched in to help build or supply various props and set pieces. Muncie Civic Theatre has provided beds for the Darling nursery. The directors also greatly appreciate support from the administrations in all three schools and from Superintendent Mr. Bryan Rausch. The musicals have truly become corporation, if not community, wide events.
To see the amazing results of the efforts of the cast, backstage crew, directors, and many others, mark your calendars as Peter Pan flies in to Wapahani on Thursday, November 15; Friday, November 16; and Saturday, November 17 in the WHS Auditorium at 7:00PM. Tickets will be $5.00 for school age and up. You won't want to miss it!