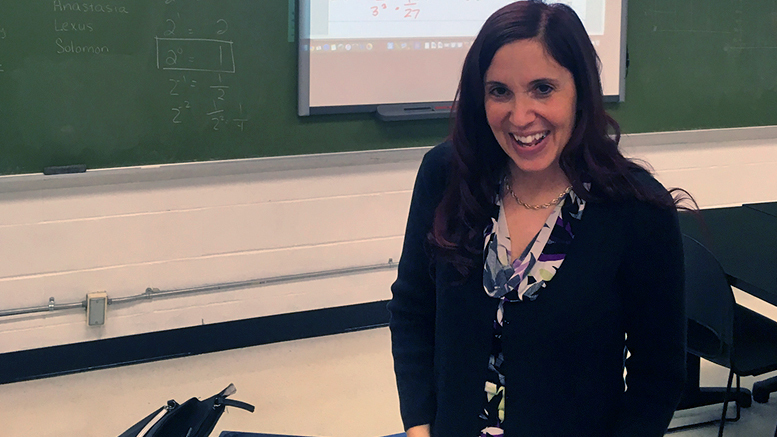 'Excellence In Teaching Award' Recognizes Wapahani High School Math Teacher
Muncie Journal By Jud Fisher
Sunday, June 10, 2018
By: Jud Fisher—
Muncie, IN—Ball Brothers Foundation (BBF) is pleased to announce that Kristy Thompson, a math teacher at Liberty Perry's Wapahani High School has been selected as BBF's 2018 Excellence in Teaching Award winner. The honor includes a $15,000 grant to support the school district, high school, and teacher's classroom. Finalists for the award were Emily Shepherd, a math and computer science teacher at Burris Laboratory School, and Candace Smithson, a science teacher at Cowan High School. Each of the finalists will be recognized with a $1,000 grant to be used in their classrooms.
"For six years, BBF has been recognizing teachers in Delaware County who are nominated by their school districts as the 'best of the best,'" commented Jud Fisher, president and chief operating officer of the Muncie-based family foundation. "And each year, our judging panel and staff are astounded by the talent, dedication, and innovation of teachers in our community. Interestingly, each of this year's finalists just happened to be teachers in the area of STEM—Science, Technology, Engineering, and Math. The subjects that these three finalists are teaching can be challenging—and even daunting—for many students, but each of these teachers are remarkably gifted."
"In the end, it was Kristy Thompson who stood out. She is deeply attuned to the needs and learning styles of each of her students, effectively teaching concepts ranging from basic algebra to pre-calculus. Her classroom is abuzz with activity as students apply mathematical concepts to real-life problems," reflected Fisher.
Prior to joining the teaching staff at Wapahani High School, Thompson spent nearly twenty years teaching in the Muncie Community Schools system. While at MCS' Southside Middle School, Thompson was part of a team of teachers who fundamentally overhauled the school's math department, using data and curriculum enhancements to substantially raise student test scores and build a new culture of teamwork and collaboration.
The Excellence in Teaching Award program is open to K-12 classroom educators with at least three years of experience in any of the county's public school systems. The award honors a teacher who brings innovation, enthusiasm, and 21st century skills into the classroom. Each district develops its own selection process and has the opportunity to nominate two candidates.
A five-member panel reviewed the applications and selected the three finalists from the larger pool of nominations. Judges for the 2018 award included Dr. Patricia Clark, chair of Ball State University's Department of Elementary Education; Gary Pavlechko, director of teaching technology in the Office of Educational Excellence at Ball State University; Kate Love-Jacobson, coordinator with the City of Fort Wayne and consultant with High Performance Government Network; Dale Basham, veteran educator and school administrator; and Dr. Neil Schmottlach, who retired from Ball Brothers Foundation in 2014.
More detailed profiles of each of the three finalists will be available in the coming days on Ball Brothers Foundation's facebook page.
Thompson joins previous award winners including Holly Stachler (Yorktown Community Schools) in 2013, Julian Ravenscroft (Daleville Community Schools) in 2014, Renee Huffman (Burris Laboratory School) in 2015, Steve Spradlin (Muncie Community Schools) in 2016, and Chris Holdren (Liberty Perry Schools) in 2017. Nominations for next year's award will be accepted from school districts beginning September 1, 2018.